About
Make Music Matter helps to empower marginalized voices with its innovative music therapy program - Healing in Harmony. Initially designed for trauma survivors in conflict and post-conflict zones, it has been clinically proven to reduce PTSD, anxiety, and depression.

From survivors of sexual violence in the Democratic Republic of Congo to young Syrian refugees with disabilities, Healing in Harmony has helped transform the lives of over 6000 individuals in 8 countries worldwide.

Participants emerge with a renewed sense of agency and self-worth. Their original songs, professionally produced and released globally, serve as advocacy tools to promote their rights and combat stigma.

www.makemusicmatter.org

About
Make Music Matter helps to empower marginalized voices with its innovative music therapy program - Healing in Harmony. Initially designed for trauma survivors in conflict and post-conflict zones, it has been clinically proven to reduce PTSD, anxiety, and depression.

From survivors of sexual violence in the Democratic Republic of Congo to young Syrian refugees with disabilities, Healing in Harmony has helped transform the lives of over 6000 individuals in 8 countries worldwide.

Participants emerge with a renewed sense of agency and self-worth. Their original songs, professionally produced and released globally, serve as advocacy tools to promote their rights and combat stigma.

www.makemusicmatter.org

UN Sustainable Development Goals
Good health and well-being

Make Music Matter's Healing in Harmony program has been clinically proven to reduce anxiety, PTSD, and depression amongst participants. The research, published in April 2021, was conducted at a site in rural Democratic Republic of Congo and demonstrated significant improvement in women's mental health, sustained up to six months post-completion of the program despite instability in the region and evidence of continued experience of conflict-related trauma during the study. Healing in Harmony integrates existing holistic care models and partners with local health and social service providers. As the emerging artists regain a sense of identity and agency, they are better placed to benefit from other programs that promote health and well-being. In 2022, Make Music Matter is continuing to work with local community leaders in Fox Lake Cree Nation in northern Manitoba to develop a Healing in Harmony program that addresses generational trauma. Youth in particular are experiencing astronomical rates of anxiety, depression, PTSD, addiction, and suicide. Mental health services in the area are limited in scope and accessibility and traditional therapeutic models have not met the needs of the community. A tailored and culturally-informed approach will incorporate traditional Cree values, teachings, principles, processes, and music. Not only does the Healing in Harmony program help individuals to heal, but it continues to make a difference at a community-wide level. Songs created become tools for advocacy and help to break stereotypes, stigma, and shame. The program has brought people together to share their stories and has helped to create more open, accepting, and supportive communities.

Quality education

The Healing in Harmony program has helped to create a gateway for community dialogue about gender norms and education rights for children. In 2021, Make Music Matter launched two new studios in conflict-ridden central DRC to help empower girls who face major psychosocial barriers to accessing quality education in a safe learning environment. Barriers include the mental stress and trauma they have experienced as a result of conflict, gender-based violence, and displacement. By helping to build resilience, agency, and self-efficacy, Healing in Harmony is encouraging girls and young women to enroll in or stay in school. The program is currently serving both youth and adults in the community to help challenge existing gender norms that threaten the rights of girls to attend school, such as child marriage. In Rwanda, Healing in Harmony has worked with street children and children of child-headed households and helped to encourage changes of behaviour and attitudes related to HIV/AIDS, sexuality, and many social challenges. It has helped to identify leadership qualities and increase capacity for positive social development, leading to new opportunities in education and employment.

Gender equality

Healing in Harmony is helping to empower women and girls in some of the worst places in the world to be female. Participants at Maison Dorcas in Bukavu, DRC, are primarily survivors of sexual violence. As they heal physically and emotionally, they rediscover a sense of self-worth and find their voice to be able to speak up for their rights. The program has also become a beacon to others in the community who may be reticent about or unaware of treatment options. At one site in rural DRC, the program has taken a gender-transformative approach, inviting men to take part in the therapy program. The focus has been on promoting positive masculinity and inviting men to be allies in efforts to achieve gender equality. Recent reports describe a significant positive change in perceptions of women and gender roles.
News and updates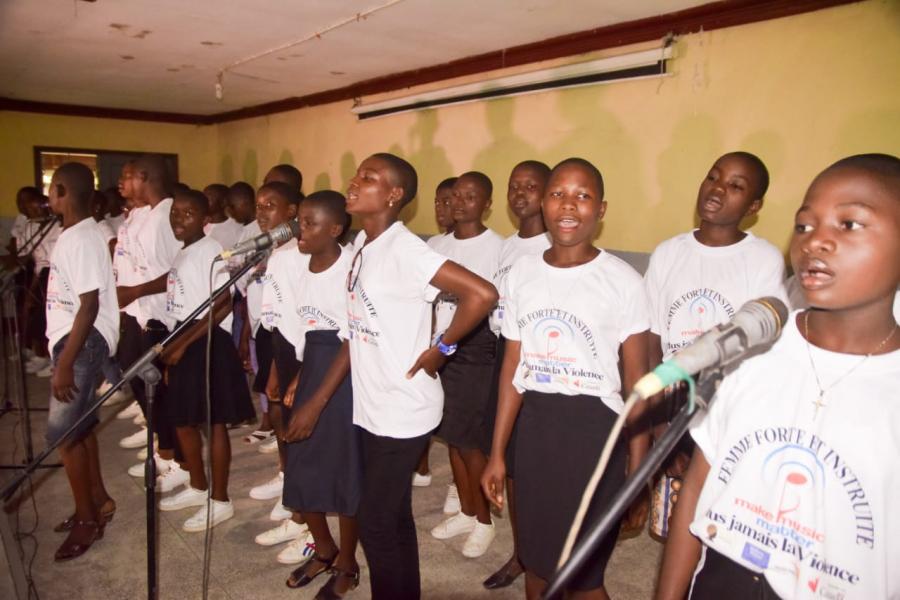 As part of the EGAL project in south central Democratic Republic of Congo, the Healing in Harmony program's objective is to address psychosocial barriers to education through music therapy. It offers a safe space for vulnerable youth to express themselves.Through the process, participants like...
Read more
Thanks to our supporters