National Service Dogs (NSD)
Campaign goal
Since April 13, 2021, 25 supporters donated
Creation date: April 13, 2021
Thanks to our supporters
Aeroplan Contribution
5,000 points donated
02/05/2023
Judith P
AB
1,000 points donated
02/08/2023
Hinrich P
QC
2,404 points donated
27/06/2023
Chenghan O
ON
1,000 points donated
22/06/2023
Anonymous
1,000 points donated
14/06/2023
Anonymous
1,000 points donated
11/06/2023
Anonymous
1,000 points donated
11/06/2023
Anonymous
1,000 points donated
07/06/2023
Anonymous
2,101 points donated
31/05/2023
Judith P
AB
1,000 points donated
29/05/2023
Judith P
AB
1,000 points donated
29/05/2023
Joshua G
NL
5,000 points donated
13/05/2023
Sheri H
ON
20,000 points donated
26/04/2023
Peter B
BC
6,170 points donated
14/04/2023
Anonymous
1,000 points donated
23/02/2023
Anonymous
1,226 points donated
14/01/2023
Adam S
ON
20,000 points donated
30/12/2022
Beverley G
ON
1,000 points donated
07/02/2022
Beverley G
ON
1,000 points donated
07/02/2022
Chun H
BC
1,000 points donated
31/01/2022
Kin S
2,500 points donated
28/10/2021
Dustin M
AB
2,806 points donated
24/10/2021
Anonymous
1,000 points donated
20/10/2021
Rohin C
QC
1,000 points donated
07/10/2021
Judith P
AB
1,000 points donated
30/09/2021
About
National Service Dogs is dedicated to empowering Canadians through the use of specially trained Service and Facility Dogs – catalysts for restorative change. NSD is an innovative provider of Autism Service Dogs and PTSD Service Dogs for veterans and first responders. Through NSD's Canine Assisted Interventions Program we are impacting communities across Canada by providing Facility Dogs for victim services, justice, education and emergency service's peer support programs. www.nsd.on.ca
About
National Service Dogs is dedicated to empowering Canadians through the use of specially trained Service and Facility Dogs – catalysts for restorative change. NSD is an innovative provider of Autism Service Dogs and PTSD Service Dogs for veterans and first responders. Through NSD's Canine Assisted Interventions Program we are impacting communities across Canada by providing Facility Dogs for victim services, justice, education and emergency service's peer support programs. www.nsd.on.ca
UN Sustainable Development Goals
Good health and well-being

Specially trained and certified service and facility dogs provide life changing mental health supports by helping to mitigate the impact of anxiety and stress, making the people they support more present in reality, safe and open to communication. Additionally, Autism and PTSD Service Dogs keep their handlers physically safe, mentally and emotionally grounded and can provide assistance with sleep routines, including calming, deep pressure positioning and nightmare interruption.

Peace, justice and strong institutions

NSD Justice Facility Dogs are matched with social workers and police officers and help children and youth engage more fully in the justice system. These dogs are used to support young people as they participate in Crisis Interventions and Client Meetings, Agency and Courthouse walk throughs, Forensic Interviews and Hospital Examinations, PreTrial Interviews, Court Orientation and Court Accompaniment and Courage Celebrations.
News and updates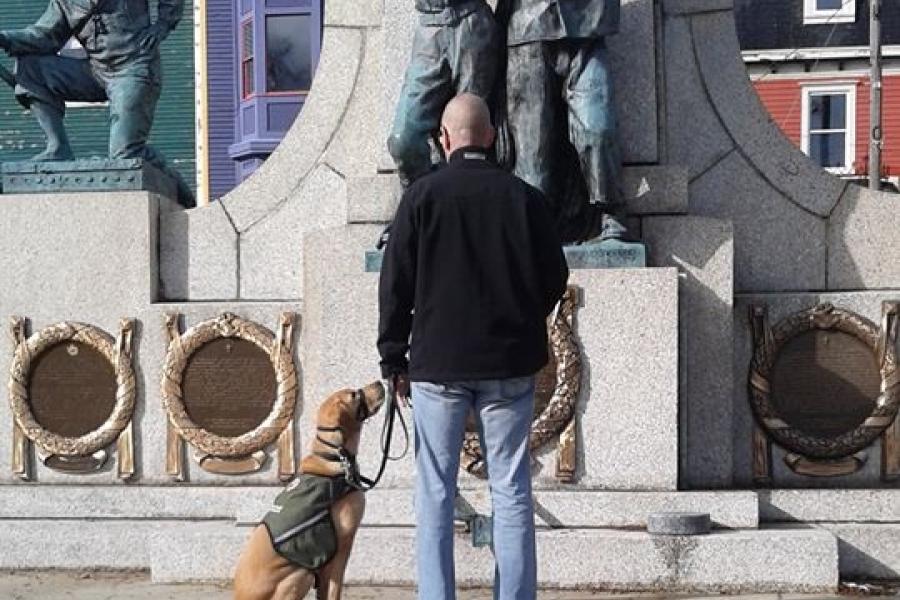 "
Thank you for helping to enrich the lives of your fellow Canadians!
"
On behalf of our NSD family of clients, we wish to thank everyone who donated so generously to our AeroPlan Points Campaign. With your help, our client service team was able to provide children partnered with Autism Service Dogs and Canadian Veterans partnered with PTSD Service Dogs with...
Read more
Thanks to our supporters
Aeroplan Contribution
5,000 points donated
02/05/2023
Judith P
AB
1,000 points donated
02/08/2023
Hinrich P
QC
2,404 points donated
27/06/2023
Chenghan O
ON
1,000 points donated
22/06/2023
Anonymous
1,000 points donated
14/06/2023
Anonymous
1,000 points donated
11/06/2023
Anonymous
1,000 points donated
11/06/2023
Anonymous
1,000 points donated
07/06/2023
Anonymous
2,101 points donated
31/05/2023
Judith P
AB
1,000 points donated
29/05/2023
Judith P
AB
1,000 points donated
29/05/2023
Joshua G
NL
5,000 points donated
13/05/2023
Sheri H
ON
20,000 points donated
26/04/2023
Peter B
BC
6,170 points donated
14/04/2023
Anonymous
1,000 points donated
23/02/2023
Anonymous
1,226 points donated
14/01/2023
Adam S
ON
20,000 points donated
30/12/2022
Beverley G
ON
1,000 points donated
07/02/2022
Beverley G
ON
1,000 points donated
07/02/2022
Chun H
BC
1,000 points donated
31/01/2022
Kin S
2,500 points donated
28/10/2021
Dustin M
AB
2,806 points donated
24/10/2021
Anonymous
1,000 points donated
20/10/2021
Rohin C
QC
1,000 points donated
07/10/2021
Judith P
AB
1,000 points donated
30/09/2021